HOME

Business Field

Quarantine Business Department
Quarantine Business Department
Indoor/Outdoor Quarantine
Jaymaster's Department of Disinfection uses best equipment and human-safe medicines, and provide eco-friendly and efficient customized services by developing new technologies and improving the service, and by disinfecting methods and experienced staffs.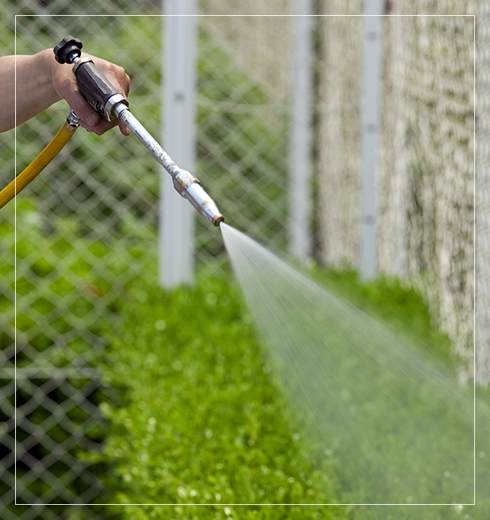 We provide optimized customized services with eco-friendly and most efficient services By using only efficient equipment and human-safe drugs
by developing new technologies and improving the service, and by disinfecting and disinfecting with the best equipments and personnel.
Jaymaster Corporation's Disinfection Program by Antiseptic Cycle
Division
Spring
Summer
Summer
Autumn
Winter
Winter

Corresponding Month

March to
April
May to June
July to
August
September to
October
November to
December
January to
February

Quarantine Classification

Sterilization
Pest
Disinfection
Pest
Disinfection
Pest
Disinfection
Killing and Deodorization
Sterilization
Disinfection
Targets
Harmful
bacteria
viruses
Pest habitat
Pest
Pest
Rat extermination
deodorization
Mite
sterilization
Five-Stage Disinfection Management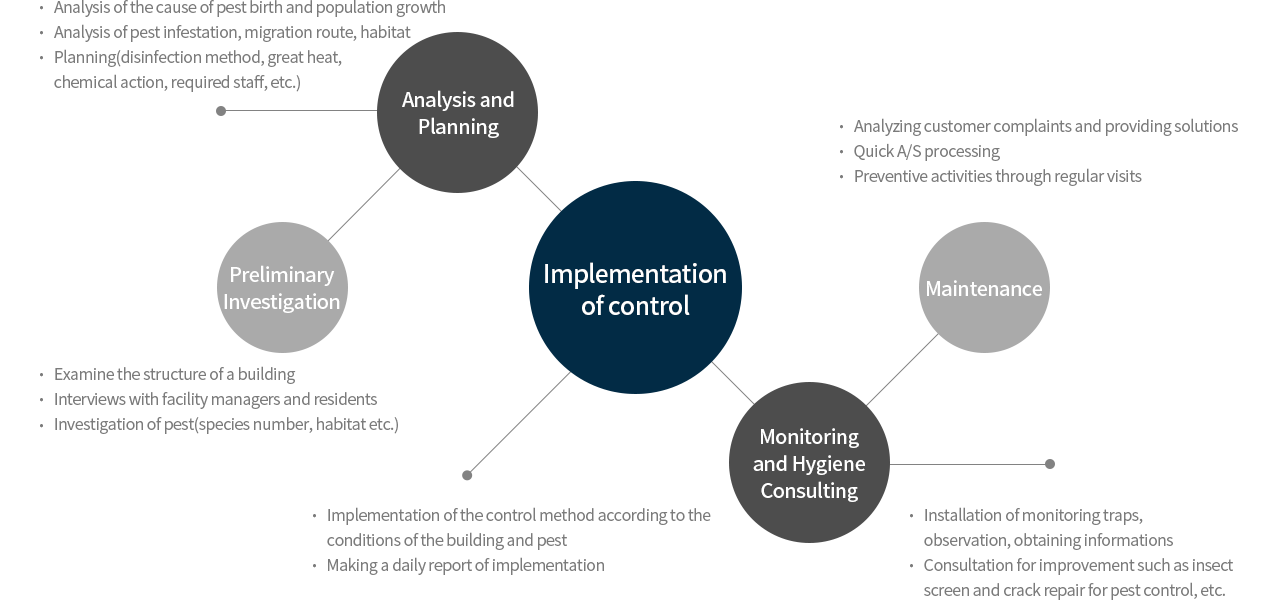 5 Major Methods of Pest Control Management
Cockroach

Water removal
habitat removal
Food management
Installation of poison food and traps
Kept clean
Through cleaning Monitoring

Fly

Insect screen installation
Flies trap installation
Spraying medicine
Installation of poison food

Mosquito

Spraying disinfection medicine
Making underground collecting wel
Screen installation

Rat

Habitat and moving route investigation
Crack and hole repair
Use of sticky, tape
Chemical control

Ant

Implementing root control
Chemical control
(Installation of manned poison and traps)
Treatment of the aphrodisiac to ants' nests
Selection of suitable control and medicines according to ant species
Disinfection
The trend is to expand from personnel control to equipment prevention according to the expansion of areas from pest control to infection prevention to personal hygiene to public hygiene
Jaymaster's differential strategy

Work performed by highly trained professionals
Use of approved products of Ministry of Food & Drug Safety
Quick A/S within 24HRs
Designate a team leader for each building

Jaymaster's Disinfection Management Point

Scientific field survey based on pest life cycle
Systematic control through continuous monitoring
Comprehensive control system - IPM(Integrated Pest Management)
Dual Check System by field team and management team
Disinfection Management Method
Deratization
Baiting : Eliminate rats in basements and outlying areas using the mouse's favorite food medication
Packing : Administer medicines in difficult areas with a specially coated bag
Catching method : Install the strap sticky, etc. on the intrusion or movement path
Liquid method : Administration of liquid medication in areas without water
TP Method : Using the habit of rats licking the body, spray the powder in a place where the rats often go
Disinfecting antiseptic material treatment : Block the rat's entryway, small holes, and gaps to eliminate §Chemicals: Theramine, Endox, Kumaside, Y.P. Stent, Other (using excellent drugs alternately)
Special Quarantine
Indoor pest and germ prevention, Pest eradication, disinfection by considering the charter of the building and choosing specialty chemicals, disinfection and disinfection
Special Quarantine

Management is important because germs are not visually identifiable.
We do not use indiscriminate insecticides and disinfectants by considering the specificity of the building in order to conduct appropriate disinfection that fits for the building.

Methods for Disinfection Control of Trees

1. The amount to be spray depends on the kind, size and density of the tree, and diluted emulsions, wettable powder with water.
2. Spraying liquid medicine evenly on the target. Spray using a spraying type passive sprayer according to the spraying area, and use a steel spray nozzle to spray the wood with high hardness by adjusting the height.
Specialized Quarantine Solution Vehicle