HOME

Business Field

Landscape Business Department
Landscape Business Department
Tree Management and Facility Management Schedule by Period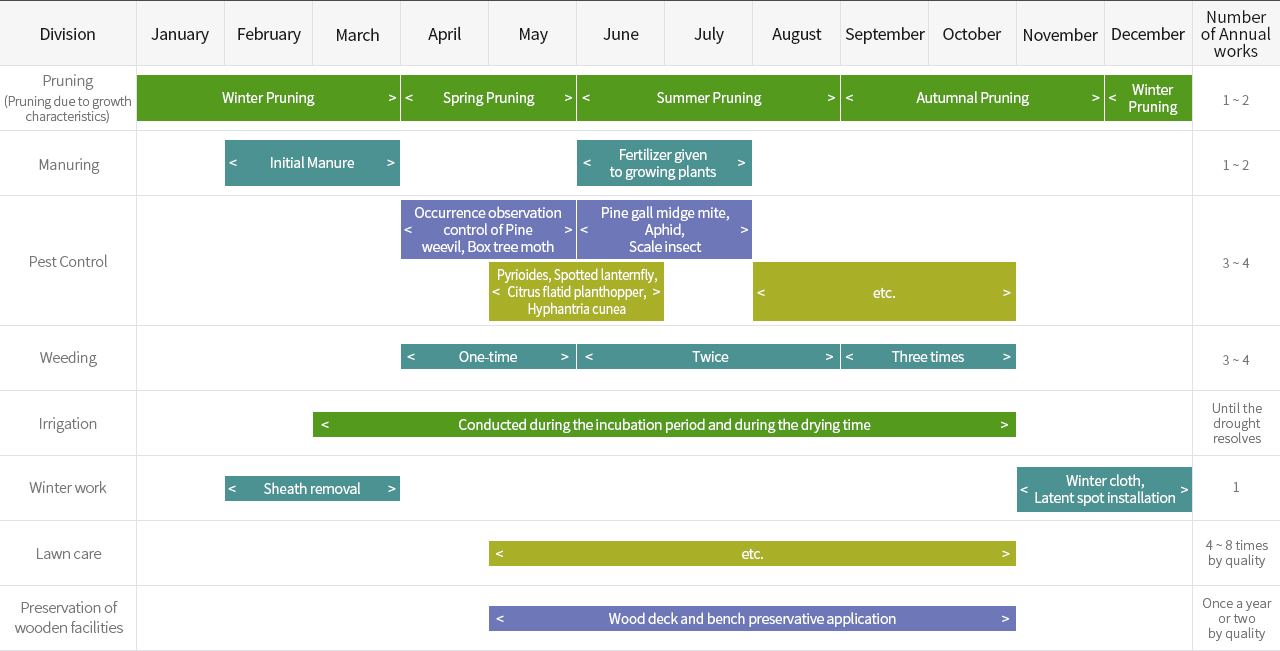 Landscape Management Details
Seasonal Field-based tree care system
Tree decline recovery treatment
Outdoor, indoor plants planting & management
Eco-friendly control system
Professional lawn care
Landscape facilities management
Planting defeat inspection & consulting, reporting
Tree risk management
Landscape remodeling & design proposal
Theorem of Terms
Trimming pruning - The work of pruning and organizing trees by considering the beauty, tree physiology, and growth of trees for the purpose of afforestation of trees.
Weeding - Removing Weeds Growing in a Plant.
Lawn mowing - Mow the grass to the proper height for the purpose of careful cultivation of grass, maintaining a uniform surface, and preventing weeds.
Lawn manuring - Spraying fertilizer etc. to aid the growth of grass.
Manuring of trees - Fertilizing organic fertilizer to promote the growth of the tree and to revitalize the weakened tree.
Pest control - Spraying medicines, microorganisms, etc. to prevent pathogens from invading trees, to prevent the outbreak of the disease and to prevent the spread after the occurrence by killing or otherwise inhibiting pathogens already attached to or on the surface of a tree, also to minimize the damage caused by pests.
Irrigation - Water cycle (supply of adequate moisture) conducted on grafted trees, grasses, and superflowers considering soil condition and plant growth condition for healthy growth of plants in long term drought.
Winterizing - Taking necessary measures for wintering to ensure that transplanting trees and herbivores adapt to the winter environment.
Arbor Management
Seasonal tree management overview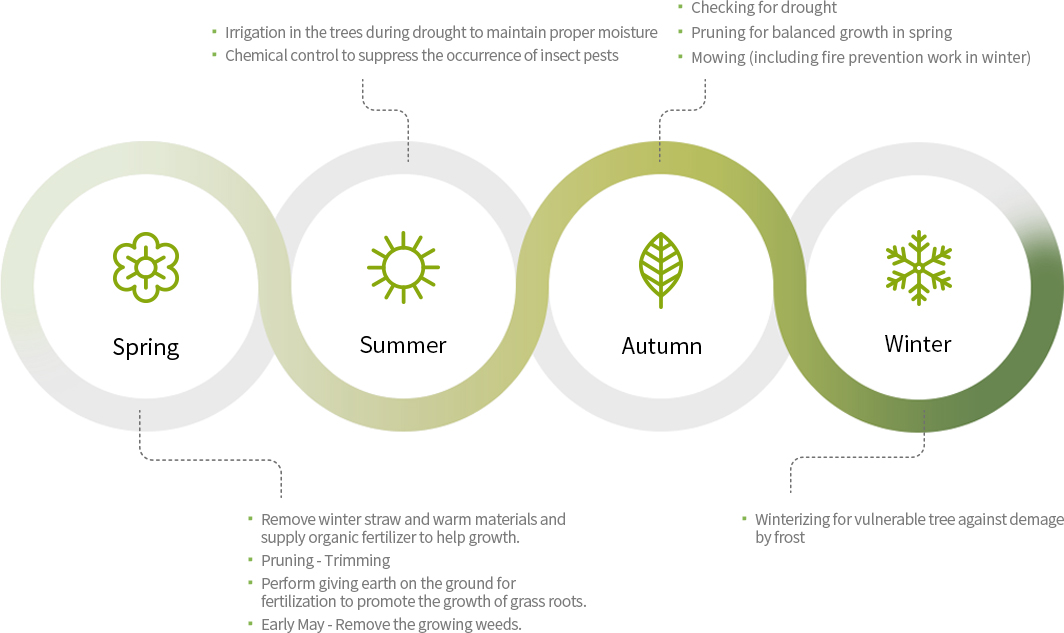 Landscape Management Annual Detail Work
Cut dead tree branch off
Dead tree removal
Leaf debris clean up
Outdoor pot wintering

Pre-emergent
Ground cover
Flower bed
Pruning pine tree

Mowing turf
General pest control

General pest control
Trimming shrub

General pest control
Trimming shrub

General pest control
Weed control

Pruning of evergreen tree

Pruning of deciduous tree
Pre-Winter Clean-up, remaining plant material
Protecting outdoor Pots and Planters Over Winter
Protecting of cold-short plants(frost-proof)
* This Landscape Management Plan was designed to help the client understand the work to be maintained annually for the existing planted trees, so please just refer to it.